E-Log - Barry Silverman 2015 JLWS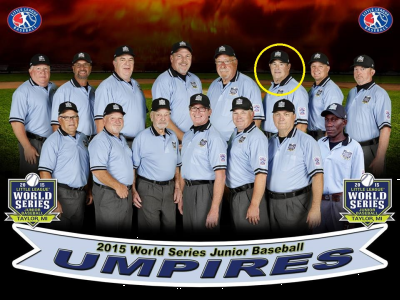 (This is the email log from Barry Silverman's visit to the 2015 Junior League World Series in Taylor, MI.)
Today there were two games:
4-0 Chinese Tai Pei v Puerto Rico 3-1. Tai Pei scored early and kept the pressure on Puerto Rico. With a strong low pitch count performance Tai Pei cruised to a 6-0 victory to capture the International Championship.
I had 1st base in the USA Championship where 4-0 Iowa was upset by 2-2 Virginia 7-4 after Virginia lost two days before to New Jersey but advanced in a three-way tie by run differential per inning with Jersey and Hawaii.
As I told Bat... these were just another ball game ....... as every game we officiate is important to someone at anytime of the season. That's why every game needs our full focus as if it were the 7th game of a World Series.
In the Championship game this old man with a bum knee is doing lots of running as the 2nd base umpire. I believe the game is televised live on an ESPN channel near 1 pm Eastern time.
Really glad I got my knee taken care of. White men may not be able to jump but old men with modern medicine can perform admirably!
Take care Brothers in Blue.... D62 is well represented at the JLWS and alumni of D62 in the LLWS in Williamsport by John Dowdy.
Today was an off day. But we had Crossover games...... these are International teams v USA teams. So today I had #3 Hawaii v #3 Panama and I took 1st base........... did well.............. but it really didn't matter since the game was not evaluated.
At 4:30 pm a few of us met as an umpire got comp tickets from a AAA umpire who's been going up and down from AAA to the Show ,,, 20 plus games year 1, 60 plus year 2, and about 60 so far this year. This professional umpire is 32 years old so he probably has 3-4 years at best to get a contract.
Tigers 0 v Rangers 2
Beautiful downtown stadium next to Ford Field home of the Lions!
We have no idea who has the plate for the two games on Saturday at 3 pm and 6 pm for the USA champion and International champion.
I have worked very hard at all positions and performed all the proper mechanics, hustled and have been sharp and crisp. I feel I'm in the top 2-3 umpires here. I don't know the criteria for selection to these honors......... but I have performed way above the average among the 12 other JLWS umpires. I have received significant reinforcement of good work by the umpires who have worked other World Series and even Williamsport umpires.
Now to the important question from Jim Burley................"how's the food?"
We have a daily different colored and dated coupon to use for the hotels buffet breakfast that has scrambled eggs, potatoes, pancakes or French toast, biscuits and gravy, sausage, bacon, oatmeal, yogurt, assorted cereals, milk. orange juice, coffee, apples, melon and bananas,
Lunch is whatever we can grab in between games at a hospitality tent that has had macaroni, chicken nuggets, salads, flavored ices, nachos, and watermelon, iced tea, water, and Gatorade.
Dinner is usually in a Hospitality banquet room after the days games that has had salads, sloppy joe's, fried chicken tenders, chicken wings, BBQ pulled pork, hummus and pita bread, cookies and soft drinks and alcoholic beverages.
Basically, you'd never have to buy a meal. But after 2-3 days none of the above was anything to look forward to! LOL
I've been so mentally focused on baseball and on field performance that eating has become just something to keep my energy level at or near maximum. The hot 83-88 degree days plus the 85-90 % humidity is very draining............. your undergarments are soaking wet and you body feels like it's carrying so much extra weight that it catches your attention and your have to focus even more.
That's it for tonight. Hope to give you some great news tomorrow.
Well............ today is the final day of pool play. We've all seen each other work. We know who is really good, who is average, who is below average.
No one has heard when the announcements will be expected for the final assignments and right now we're all having fun working games.
From day to day it gets hard to remember who played who. It rained hard overnight and all the games' start times were sort of moved forward 1 hour to properly prep the field. We were warned of water in the outfield and down the foul lines along with a rolled tarp on the field now for ground rules.
The 11 am started at 12 noon... I was on 2nd base. Since the injections I had for my left knee I've been able to move with a purpose and I and others believe that makes me stand out. I can't remember now who played or who or who won without looking at a schedule which I don't have in front of me. Probably because I'm mentally and physically tired from getting up early, doing washes, going to the park for games, having 8 pm games that are completed after 10:15 pm or later every night then go to the Hospitality Room. Nothing special regarding calls during the game however my overall focus seemed to me to be at a very high level. I was taking pride that I was getting where I needed to get to in preparation for any surprises that might have occurred.
The Hospitality Room is a large banquet room where all the adult volunteers and umpires can join together, eat and drink whatever the local leagues have provided and then finishes by either selling memorabilia or auctioning it off. It starts after the last game of the day and lasts to between Midnight and 1 am! Now you get a sense why I'm tired.... sleep depravation!!!! Average only 5-7 hrs sleep a night. For this old body it can handle that for a day or two..... but 5-6 days straight...OMG.
Had a break after the 12 noon game so Bat and I took care of some errands. When we returned to the park at 4:40 for the rescheduled 5 pm game moved up to 6.. The previous game was a quick mercy, and the game was going to start in 30 minutes, 5:15 pm. I had 3rd base. I had to rush to dress!
Didn't bother staying for the next game.... I woke up hoarse with a cold and cough... popping throat lozenges all day and blowing my nose. Going to take a long Jacuzzi and swim to see if my adrenaline will know it down.
Friday is an off day. Saturday Chinese Tai Pei plays Puerto Rico for the International championship. Iowa will play Virginia (who advanced from a 3 way tie).
Friday Bat and I are spending watching John Dowdy's plate game. All Games for Thursday were rained out.
This great opportunity of a lifetime is winding down!!!
Great day today ... sort of...2 pm Game I was doing plate was moving along great going into bottom of 6th in 1 hour 28 minutes.... then it started to sprinkle first light rain then heavy and light again. The game then was delayed for 2 1/4 hours. When the game resumed about 5:45 pm it took 17 minutes to complete.
Went to pick up Batman. Had talked to him during rain delay! About 4:45 pm after his plan landed in Detroit he was going to wait for me. Then when game was completed little after 6 pm.... received a message from Bat he was taking a shuttle or limo to the hotel. Called Bat back found he's on his way. Met him at the hotel...got settled in. Went to ball park for my 8 pm Left Field Foul Line game.
My gosh... Bat walks into the Umpire room... Big Al Hitchcock is there..... and others who know Lee as I prepared for the 8 pm game.
BTW.. Hawaii lost its second straight game 2-1 to Iowa. They've scored 3 runs in the past 22 innings!!!! Iowa is 3-0 and will be in the USA final.
The 8 pm game saw Chinese Tai Pei win again. They will be in the International Final. Interesting thing about the Tai Pei team.......... since LL allows kids to play together if they go to the same school.... most of these players do not live within the district boundaries but go to boys baseball academy that provides education through grade 9. Sort of like Mater Dei for specific sports.
Tournament pool play ends tomorrow......... talk to you all then!
Weather cooled down yesterday! 5 pm game One call at 3rd base... picked up 3-4 baseballs down the left field line... only action of that game.
Right Field Foul Line at 8 pm game. Trying to stay awake. If not for #17 from Iowa I'd be bored.... 6'4" 215 lb left handed hitter hitting long fly balls down the RFFL.
International side finds Chinese Tai Pei the strong team. and here's why...... like Mater Dei is a private high school and Little League rules allow players going to the same school to play together even though they may live outside the district........ these boys go to a school for academics and baseball.
Just doesn't seem fair. but, as in like.... well you know!
Hawaii was mercy'd today.... so USA is anyones game almost. The webcast guys are talking about a 3-4 way tie at 2 and 2 records.
Wednesday I have my 2nd plate at 2 pm Illinois v Texas. Hawaii plays Iowa (undefeated) at 5 pm. Then a LFFL at 8 pm Chinese Tai Pei v the Czech Republic.
In between I pick Batterman up at Detroit airport and this evening he will reacquaint himself with friends and acquaintances from Taylor, So Cal, and his LLWS 2011.
Talk later Brothers in Blue!
Boring day sort of............. had 11 am base and 2 pm "left field line".
Only 1 close play at 1st in morning game and I nailed it. Runner interference between 1st and 2nd. I though I pooched U2's call but he said it was still in my area! Not even a rotation to home since PU never rotated even though he could have.
First time I've ever worked 'Left Field Line' on 90' diamond. There's so little to do! You either rule fair foul if there is a line drive beyond U3 or beyond you or on balls hit towards the foul line if U2 is outside the diamond as U2 has everything in the V. Once U2 is inside like the little field the line umpires split the outfield from center field to the foul line.
About the teams Hawaii has played twice now and looks like a possible American champion. Decent hitting, at least one dominating pitcher.
Chinese Tai Pei has played once and defeated what we thought was their major completion in Panama 9-2. However, Puerto Rico seems like a formidable opponent now having won two games. But Puerto Rico starts fast, 10 runs in first inning of first game, and 6 runs in first inning of 2nd game... then hitting goes flat. Most of u8s don't think that formula will work with tai Pei!
Tomorrow I have 3rd base at 5 pm and the Right Field Foul Line at 8 pm. Doesn't present itself as a very good day to show off my talents unless there are some unusual plays at third.
So in 3 days of baseball I have done all 6 positions.
Found out today an umpire from the Central region worked with Bat in 2011 in the LLWS.....Sam Fonteccio! BTW Bat... Sam was in the wedding party for Jason Kelly when we attended Jason's wedding a couple years back outside Minnesota.... ya ya you betcha LOLO It's a small world after all!!!!
Good Night D62!
First let me apologize............ the webcasting address on the cards was incorrect. Some of you have found the correct one.
It should be: www.vaughnlive.tv/jlws
It was along day at the ball park !0:00 am to almost 11:00 pm. Its warm...upper 80's but humidity is almost 100% so it zaps your energy.
I went early to watch the plate mechanics of the first umpire.
I was on 2nd base during the 2 pm game and thought I did a great job.
I was an alternate for the 5 pm game in case a plate or base umpire went down. The alternate has responsibilities of tossing down game balls from a 2nd story window and providing whatever refreshment all the umpires need be it cold water or assorted Gatorade.
I had the plate for the 8 pm game and thought I did a very good job. was able to move efficiently and jog back to POP. I thought I managed the game very well as it was a 2 hr 20 min 6 1/2 inning 11-3 game. In my mind it was a little disappointing because the home team scored 10 runs in the bottom of the first and it went the distance. Nothing special happening to show my rules knowledge or positioning for plays at either home plate or 3 rd base.
Anyway Monday I have 1st base on the 11 am game between Southeast (Virginia) and Central (Iowa).
Then I have left field line in the 2 pm game between Ontario, Canada and Europe/Africa.. the Czech Republic.
I understand the webcasting announcers made some great comments on my plays at 2nd base in the 2 pm game. And a 'shoutout for Calif D 62' was on the webcast..................cool!!!!!!!!!!!!!!!!!!!!!!
At the moment we're getting our assignments a day in advance. It's almost 1 am here outside Detroit in Taylor. I'm going to get some ZZZZZZZZZZZZZZZZZZZZZZZZZZZZZZZZZZZZZZZZZZZZZZZZZZZ
Getting really close now to go to work. Two other umpires said to me how anxious they were to get to work!
Today was a very nice Steak, Chicken, Shrimp, baked potato, salad, beer and soda Umpires lunch only at 2 pm. Then we were told how certain mechanics would be run. I will discuss them with you at our meeting in September.
Then we got our flex JLWS caps, 2 Pro Blue Honigs shirts (no American flag, no umbers on shirts), Honigs charcoal grey combo pants (I ordered 38w 31L but it wasn't there). I was pre-paired luckily having previously purchased plate and base slacks! 2 black undershirts. A very nice JLWS base jacket with our names monogramed on them.
Went for individual and group pictures which are being put into a program. They have a very nice souvenir t-shirt but we have to order them at $16 each.
A little break about 6 pm............. then be back by 7:30 pm in preparation for the Opening Ceremonies. About 8:15 pm as the sun is setting they started with introductions of local city and state dignitaries. After which each umpire was introduced and each of us ran/jogged to specific places where the back part of the dirt infield meets the grass. Then each team marches in from the right field foul pole with some music representative of their state or country down the right field line to home plate up to third base and around to each of 10 umpires.
I was responsible for the European representative........ the Czech republic! Then the team farthest from Taylor, and each team in order from the farthest to the closest sends a representative with a mitt to spots in the outfield on imaginary lines similar to positions B and C on a 90' field. Chinese Tai Pei was farthest (9,770 mi), followed by Czech republic (4,800 mi), then Hawaii (4,650 mi) all the way down to the Ontario, Canada team 200 miles away. They introduce former hometown boy, Atlanta Braves pitcher Steve Avery, to throw the opening of the JLWS pitch. Then to show unity from all the teams throughout the world and the United States a ball is thrown from the outfield fence zig zagging across the outfield until the ball is thrown from near 2nd base to the pitcher.
After that the stadium lights went dark and there was a very nice fireworks display for about 10-15 minutes. Opening ceremonies are now complete.
Umpires are being scheduled on a day to day basis. After the Umpire clothing was passed out the Sunday schedule was passed out. Ok everyone ........... my schedule is as follows for Sunday, August 16:
2 pm 2nd base for Asia-Pacific v Latin America.. Chinese Tai Pei v Panama
at 5 pm I'm the alternate in case the PU or a BU goes down due to . This is Southeast (not sure which state this is) v Southwest... Texas.
8 pm I have my first Plate assignment. Puerto Rico v Ontario, Canada.
All JLWS games are being webcast at: www.vaughnlive.com/jlws
Ok all.................. I will be sending my day out to you sometime Sunday evening.
Fellow umpires............. the worst thing about going to these tournaments is the waiting around for a few days before we get down to the business of having fun calling "balls 'n strikes" and 'safe's 'n outs."
Day 2......... umpires and teams arrive all day and evening long.
Tried out the coupon for a buffet style breakfast at the Holiday Inn provided as part of the package with the room from the JLWS committee here in Taylor. What a spread.... scrambled eggs, home fries, bacon, sausage links, kelbasa with peppers and onions, breads, fruit, muffins, cereal, oatmeal, milk, fruit juices, bananas, apples, oranges. I sampled a little of everything! a lot of food.... so much in fact that I didn't eat anything more until the cookout at the pavilion at the JLWS ball park.
After breakfast took the two minute drive over to the ball park at a beautiful forested park named HERITAGE. Took pictures and videos of Junior League World Series Champions Row.... a series of street markers 7-8' high on metal signs about 36"x30" with the year and city-state of every JLWS winner from 1981-2014 and a final marker with multiple question marks (???) on it for the expected 2015 winner.
Killed time during the early afternoon using the indoor swimming pool and hot tub to work off the calories from the gargantuan breakfast.
Late afternoon spent time sending and receiving replies from the 3 - 4 jewelry companies investigating pricing and artwork for the WORLD SERIES rings that a few umpires showed an interest.
At 5:15 pm back to the JLWS ball park for a "cookout" of hamburgers, hotdogs, salad, chips, and somebodies special 'bacon and beans.'
It was more of a 'find the umpires' and get to know each other.
The Saipan, MP umpire won't be with us due to flooding of his home in Saipan from a typhoon! Sorry he couldn't be here. I will get his address and forward my gifts to him since one of them is a flipping coin with the Little League "Character Courage Loyalty" logo on the front in red, white, & blue and on the reverse side an umpire mask and indicator with his name, city/state/country..... very personalized.
Now we are down to 12 full working umpires as one umpire is a permanent fixture who usually always works 3rd base from what I've heard.
I think I was able to meet all the other umpires. All have worked at least one regional. Four or five have worked other 90' World Series.. Senior or Big League. One worked the LLWS in 1995 the final dish!!!! I feel a little overwhelmed by the resume background of some of them. I hope I'm good enough to get their acknowledgement somewhere along the way. Sometimes that can be more important than getting that final plate. I'd say the overwhelming majority of us are 50 and older. Probably 5-6 of us are over 60.
As we saw teams arrive for the cook out........ most came in shorts and t-shirts Except the Chinese Tai Pei team who were dressed all alike in royal blue gym pants, same color shoes, white pullover top with the team logo and name on them, and white crowned baseball caps with royal blue brims and their logo on the crown. As they walked towards us everyone of them smiled and bowed. Having done "goodwill' games at the college level with the Japanese years ago... I bowed to each of them, got smiles and fist bumps.
One of the umpires said they had practiced on another field for 3-4 hours earlier in the day. This Chinese Tai Pei league has won 3 of the last 4 JLWS! It's almost as if that they don't win they will be embarrassed.
A Hawaiian team is representing the West. Surely I'll not get a plate for them. As it is when I did the 2008 and 2010 Junior and Senior regionals I became friendly with a manager who is not well liked because he is such a strict disciplinarian (but an excellent manager) who gets the most out of his players but takes the fun out of the game. The Hawaiian manager and coach and I talked about him for some time.
The Czechoslovakian team is here. Only English most speak is YES!
Panamanian team missed their flight and will be coming into Detroit after 9 pm.
Thunder and dark gray clouds through most of the evening. Overheard that rain is expected 3 of the next 5 days. RAIN... what's that. We have a little in July that sets records.... in Michigan they may get 1/2 a years worth before this next week is over.
Tomorrow umpires meet at 2 pm. So, I have 1/2 a days time to kill. I'm downsizing my breakfast for sure.... LOL
Waiting, waiting, waiting for baseball to begin.
Today our journey begins to the Junior League world Series in Taylor, MI.
Its the 35th Anniversary (1981 - 2015) for the JLWS. I guess its only been held here.......... that makes it #2 since the LLWS in Williamsport just celebrated 75 years in 2014!
This will be OUR great adventure! I'll be your eyes and mouth to let you know as much as I can about what is happening each day (as long as I'm not too tired or inebriated to send something out). OMG
Flight to Detroit and renting car to Holiday Inn in Southgate, MI went without a hitch. The room at the Holiday in is being paid for in full by the Tournament.
Because I had to come in early, I made a separate reservation for Thursday evening at a cost of about $139. When I registered........... the desk attendant said the room had already been taken care of for the extra night by the JLWS. Love it when I'm saving $$$$$! Thank to the JLWS director for that.... it was totally unexpected.
And, there are vouchers every day of the JLWS for breakfast in the hotel............. I'm surprised!!!!!! The BATMAN and others I've talked to who are Alumni of the JLWS sure are correct when they've said........"the JLWS knows how to take care of and treat the Umpires right!"
I arrived a day early on Thursday, August 13, due to cost and arrival time. Nothing is really starting until Friday evening at the JLWS pavilion where a cookout is being held from 5:30 to 8:00 pm.
Well, I'm tired now. want to get rid of my jet lag.
I'll let you all know what Friday brings...as the JLWS doesn't start until Sunday.
D62 saying Good Night!
Barry