E-Log - John Biggs 2018 WRLL Junior Softball Regional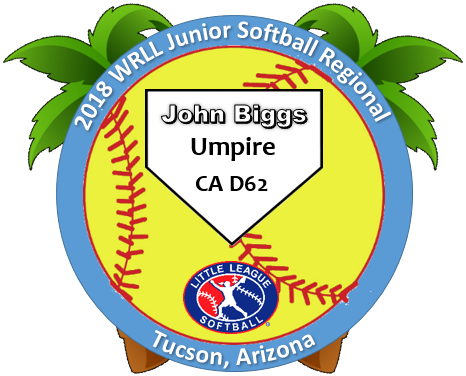 Many baseball and softball officials live for the roughly six-week period between late June and early August. For me, it begins with Little League baseball TOC and All-Star tournaments, and continues with USA Softball district and state tournaments. New for me, though, was the honor of serving in Little League West Region tournaments, both last year (Senior Baseball) and this (Junior Softball).
For roughly two weeks, I have shared with you my experiences leading up to and working the Junior Softball West Regional. It has allowed me to document what would only be fleeting memories otherwise. Now that the tournament has ended, I'd like to leave you with experiences that meant the most to me.
First and foremost, I would like to thank Carl A. Thompson and his staff for the outstanding job putting up a first-class tournament, and to Len B. Gerken for smoothly coordinating the experience for the tournament umpires.
This tournament brought together some of the best umpires I have had the honor to work with. This was a great bunch of guys, from other selected umpires Darrin Leggett, Tom Sullivan, Scott Moseley, John Diaz, and Michael Lechnar, to host umpires Len Gerken, Bill Fronzaglio, and Parker Shibuya, it was an easy group to work with and learn from.
Speaking of Parker Shibuya, he is the perfect example of what junior umpiring can become. In a group of umpires ranging in age from mid-40s to early 60s, this 19-year-old umpire (!) already has ten years experience on the field. He held his own, and then some, with his geriatric counterparts, and will be an umpire to watch.
Special thanks to tournament evaluator Russell Smith and his wife, Wendy, for their hospitality on July 12 and 13 leading up to the tournament, and to Russell for his insight into the "uniquenesses" involved with umpiring Little League softball. And to David Eric Chavez, the assistant evaluator, for both his input and his documenting through photo and video of the experience.
The Omni Resort and their staff bear special mention. Great facilities, great service. I would recommend it highly.
Thanks to Mark Bernstein and West Region for extending the invitation to represent WR in this tournament. To Mark Groh and Bill Graham for submitting my application to WR for consideration, and for (in addition to Chris Costlow) their hard work in helping me assemble the pins and hats I was able to give out to my fellow umpires.
And finally, special thanks to my lovely, sweet, and patient wife, Anna, for her understanding of how much my umpiring craft means to me. Words can't describe the level of respect and love I have for her.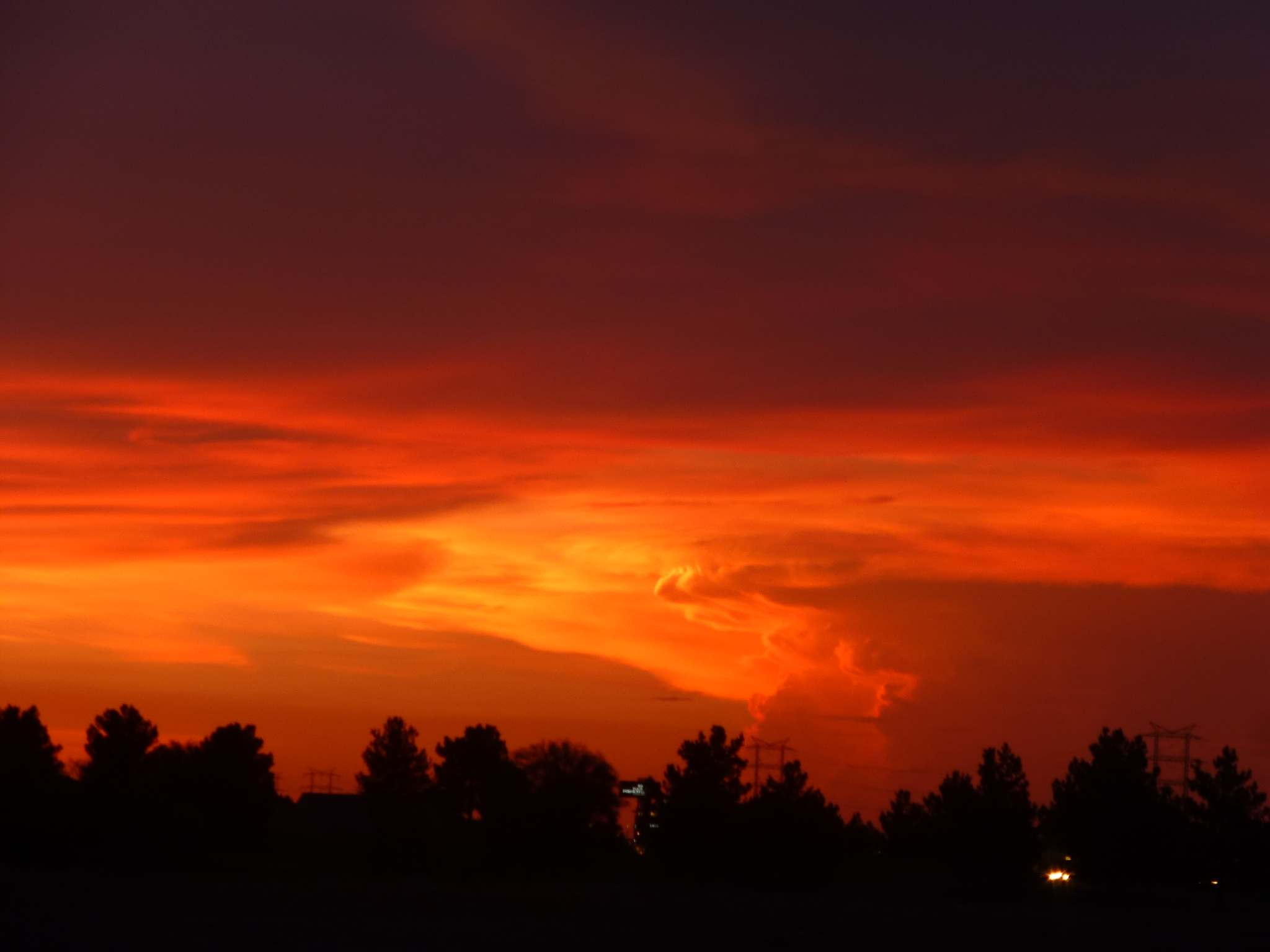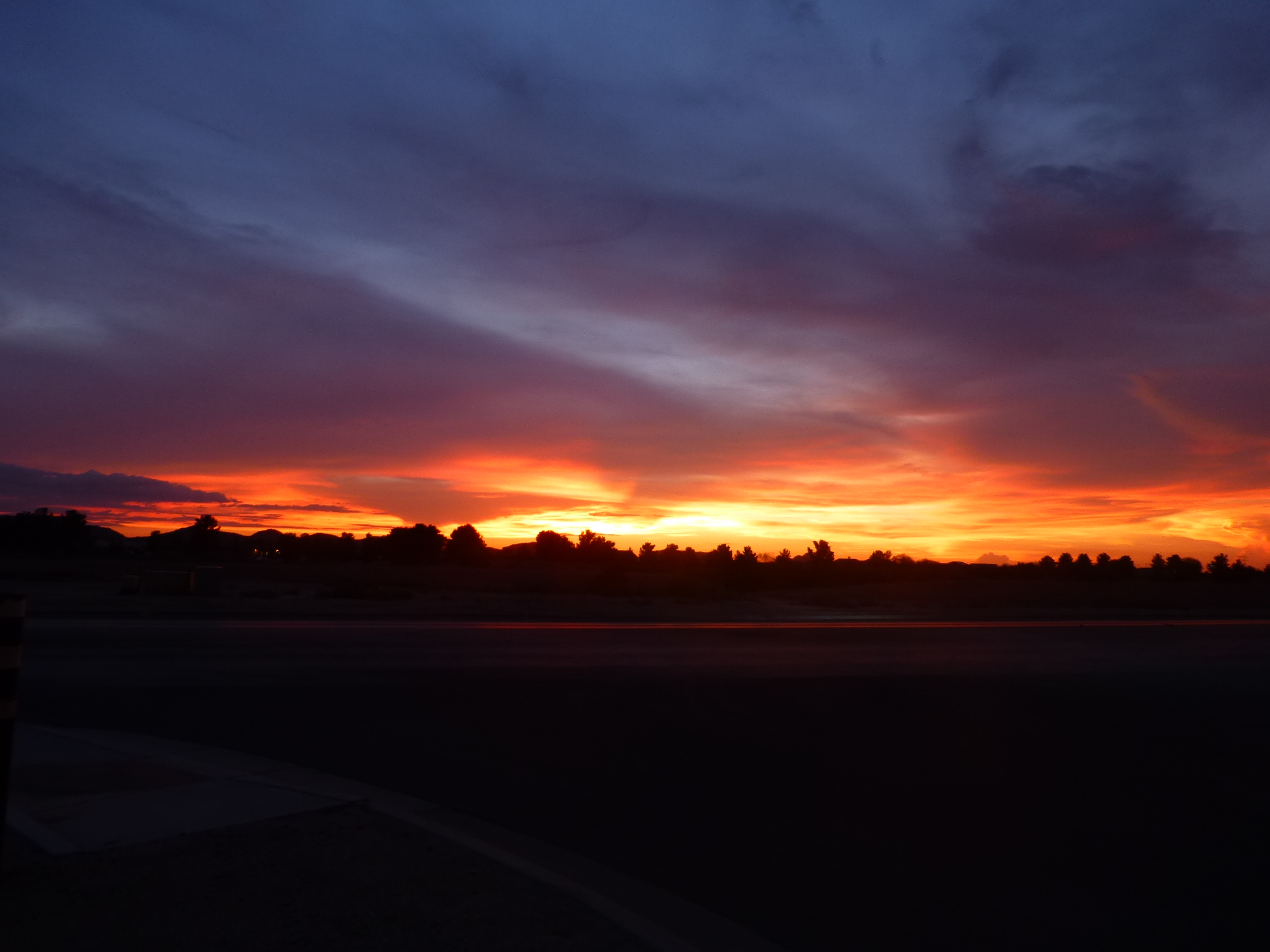 Left to right: Parker Shibuya, Thomas Sullivan, Darrin Leggett, Scott Moseley, Michael Lechnar, and me. Video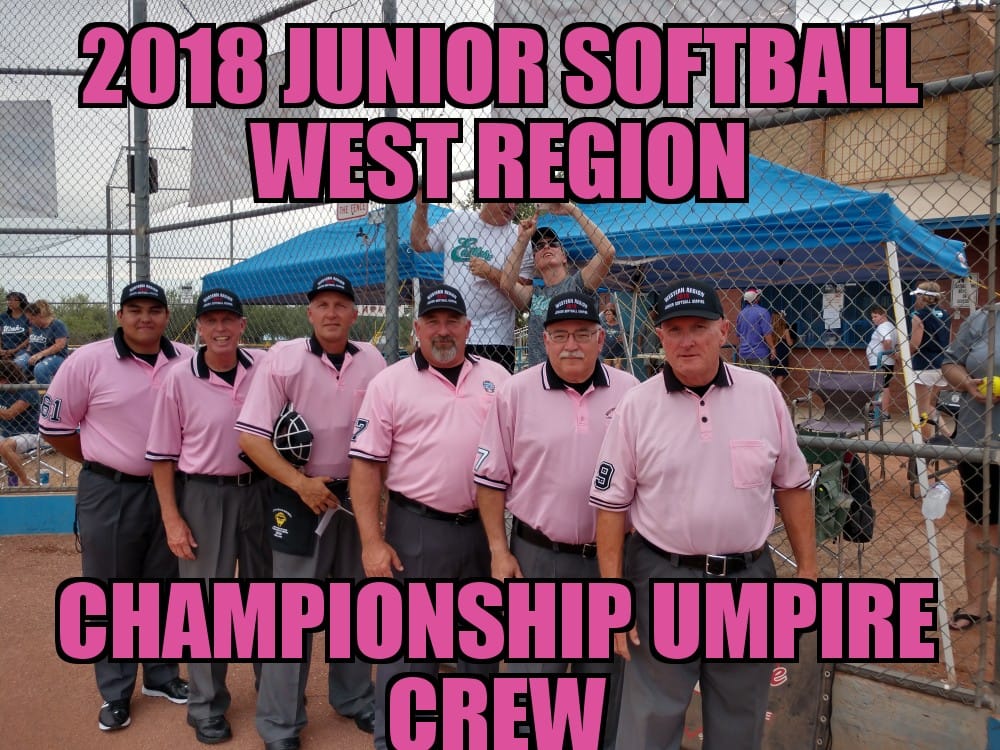 Wednesday, July 18. One game -- the Semi-Final between Washington (Eastlake LL, Seattle) and Alaska (Abbott-O-Rabbit LL, Anchorage). Great pitching by WA, coupled with timely hitting, resulted in a 7-0 win over AK. I was honored to work the dish for this game, and literally had the best seat in the house for one of the most important games in my umpiring career.
Today at 5:00 is the Championship Final between Washington and Utah, with Darrin Leggett on the dish. I have the U3 slot. If Washington wins, another game will immediately follow at 7:30, with Thomas Sullivan working plate.
Some may be curious about the Little League version of softball. Living in Orange County, there is no LL softball to be found. So, if you want to work fast-pitch softball, your only options are USA (aka ASA), high school, college, or travel ball.
For me, FP softball umpiring began in 2013 working USA/ASA. Coming from a long-time baseball officiating background, the challenge of keeping separate the rule sets and expected mechanics was daunting. The following year, I began in the Orange County high school unit (OCSOA), where the rules and mechanics line up very closely to USA/ASA.
I then began working close to a 50/50 schedule between baseball (Little League, PONY, USSA, high school, and adult rec) and softball (USA/ASA and high school). In 2017, after the honor of working the West Region Senior Baseball Little League tournament in Sacramento, I applied to work this season's WRLL Junior Softball Regional tournament -- and was honored again with selection by the West Region. Now came the task of developing a top-level working knowledge of Little League's brand of softball, and the mechanics they expect to see, in a short period of time.
What I found was that the rules lined up much more closely to LL baseball than to USA/ASA/HS softball. And the mechanics were closer to the WR mechanics for baseball than to the softball I had worked hard to master to that point. The good news was that I had extensive history working LL baseball; the bad news was that I have found it a challenge to not let the USA/ASA/HS rules and mechanics seep into my work on the LL softball diamond.
So, this tournament has helped me in my continual quest to challenge my officiating experience (which included diving into high school football in 2016). I would like to say that I have been successful in avoiding a "bleed" of softball rules and mechanics knowledge between LL and USA/ASA/HS, but unfortunately that's not the case. But I continue to strive to achieve that goal.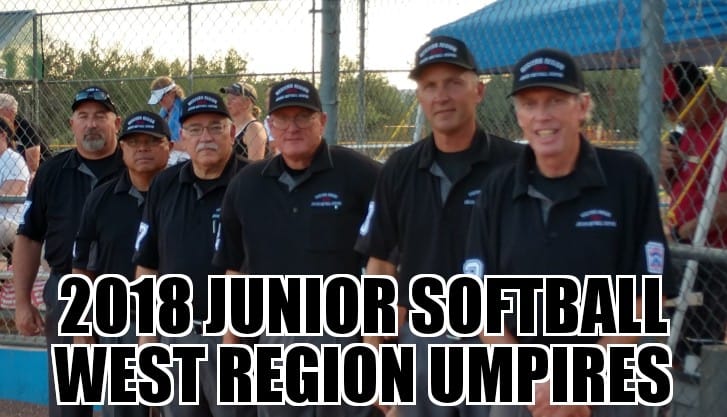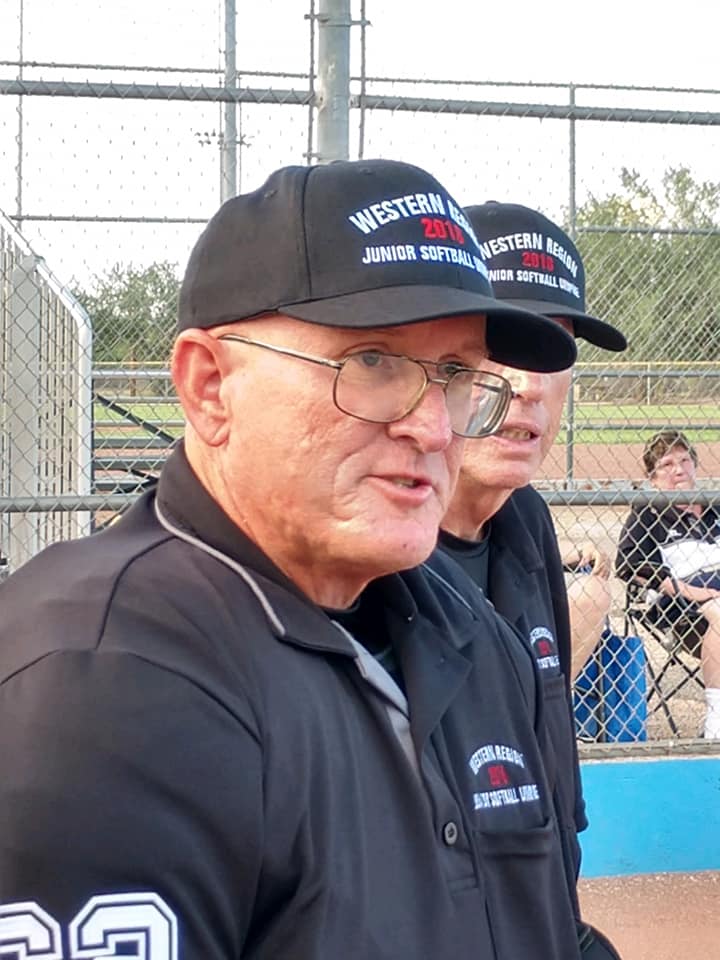 Left to right: Parker Shibuya, Scott Moseley, Bill Fronzaglio, me, John Diaz, Michael Lechnar, Tom Sullivan, and Darrin Leggett. Len Gerken behind the camera.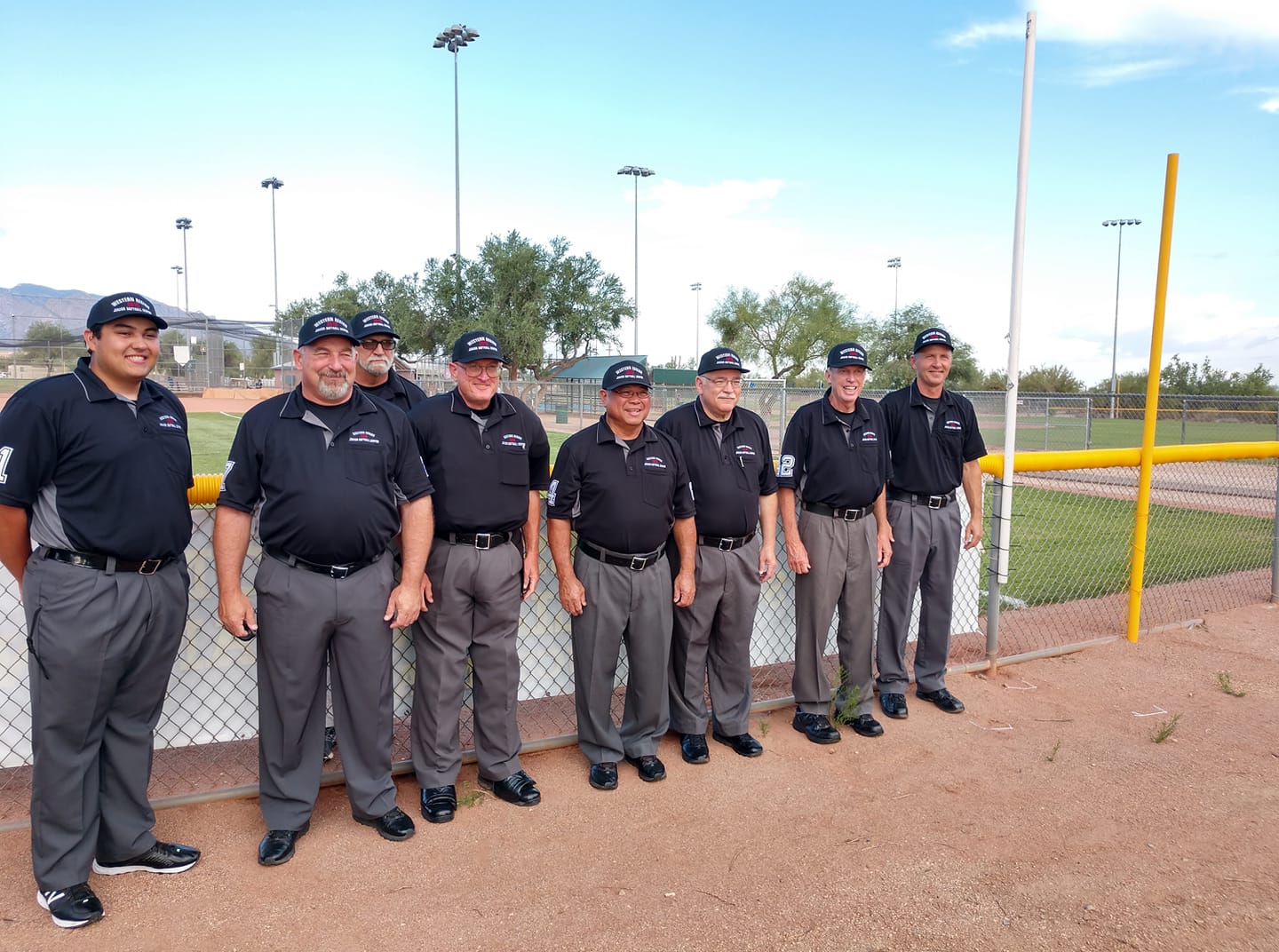 The Consolation Championship game on Tuesday for me with a 5:00 at U1 between teams from SoCal (Burbank) and Arizona (Flagstaff). Great pitching from both teams, but SoCal managed to push across three runs for a final 3-0 win, eliminating AZ.
For the 7:30 contest between the two unbeaten teams from Washington and Utah, Thomas Sullivan and I were recruited to fill out a six-man crew, with me taking the RF line. Two very solid teams, this one was 1-1 through 5 1/2 innings, until WA pushed across a run on an Obstruction call in the bottom of the sixth. But in the top of the 7th, UT turned on the offense, scoring three, from which WA couldn't recover -- 4-2 final.
Utah will now play in the Championship game on Thursday, against the winner of the 6:30 semi-final today between Alaska vs. Washington, on which I have the plate. Six-man crew again, so no rotations for me, but I'm looking for a good, well-played game between two of the top teams here.
No sight-seeing on Tuesday. It was shopping day for me in downtown Tuscon near UofA, followed by lunch with a few of the guys at Frog & Firkin, a local institution with great deep-dish (thanks, Bill Graham!).
Back to sight-seeing this morning, with a group of us visiting the San Xavier del Bac mission in South Tucson.

Monday started with a trip out to Sasco, a deserted mining town that had a short life life in the early 1900's as a smelting center for mines in the area. All that are left are some rock and concrete ruins of the hotel, jail house, and some of the smelter structures.
Later in the day, the Arizona monsoons finally caught up with us. A day that started out sunny in the upper 90's saw a storm front move in around 5:00 with rain and lightning, shifting the schedule for the crew with two games from 5:00/7:30 to 7:00/9:00. I was U1 on the crew with only one game, starting as scheduled at 7:30.
My game saw the host team, Tucson Mountain LL, leave the tournament with a loss to NorCal. It was the second game in two nights where it seemed the batters were using me as target practice in my wing position. Some games are just like that -- a test of your dance and survival skills.
The schedule came out last night for the remainder of the tournament, for the six teams moving on to the Championship Playoff -- Washington, Alaska, Arizona, Norcal, SoCal, and Utah. My one game is an elimination at 7:30 between Arizona and SoCal, working U1. Wednesday, we begin six-man crews, with the semi-final at 6:30 at which I'm on plate. Thursday is Championship Day, with the final at 5:00 (I'm LFU) and the "If Necessary" at 7:30 (U3).
Having a blast, staying hydrated, and not blinking for a second.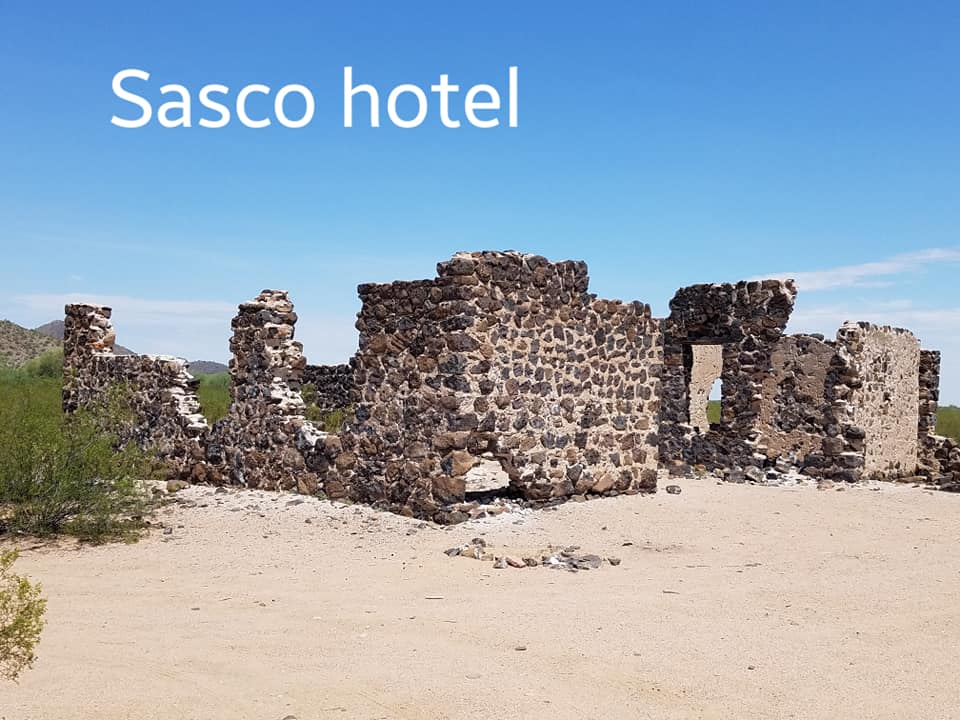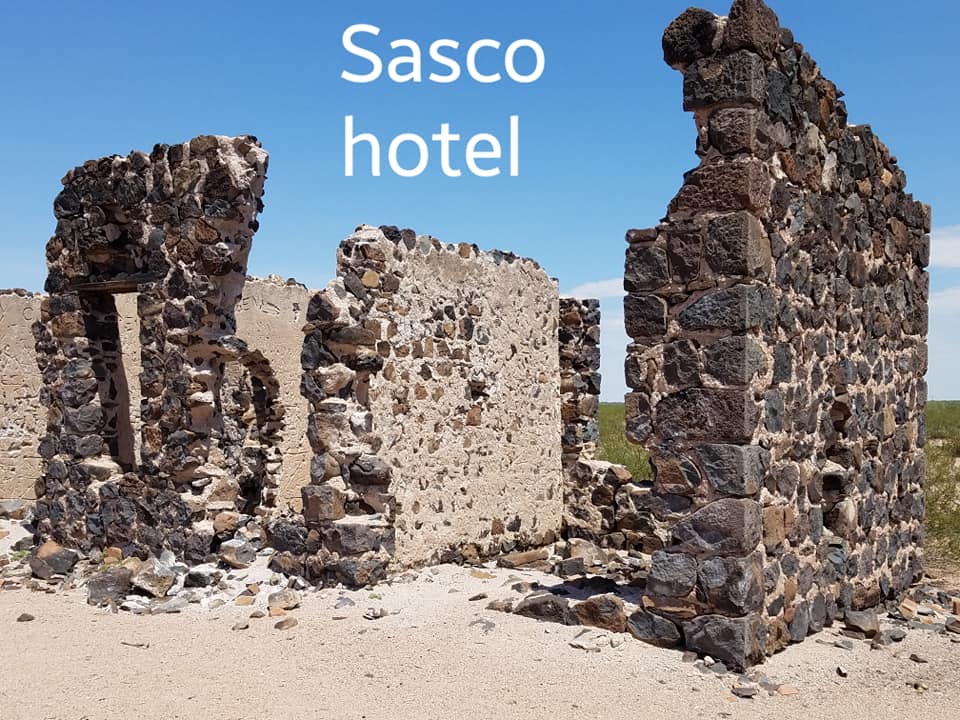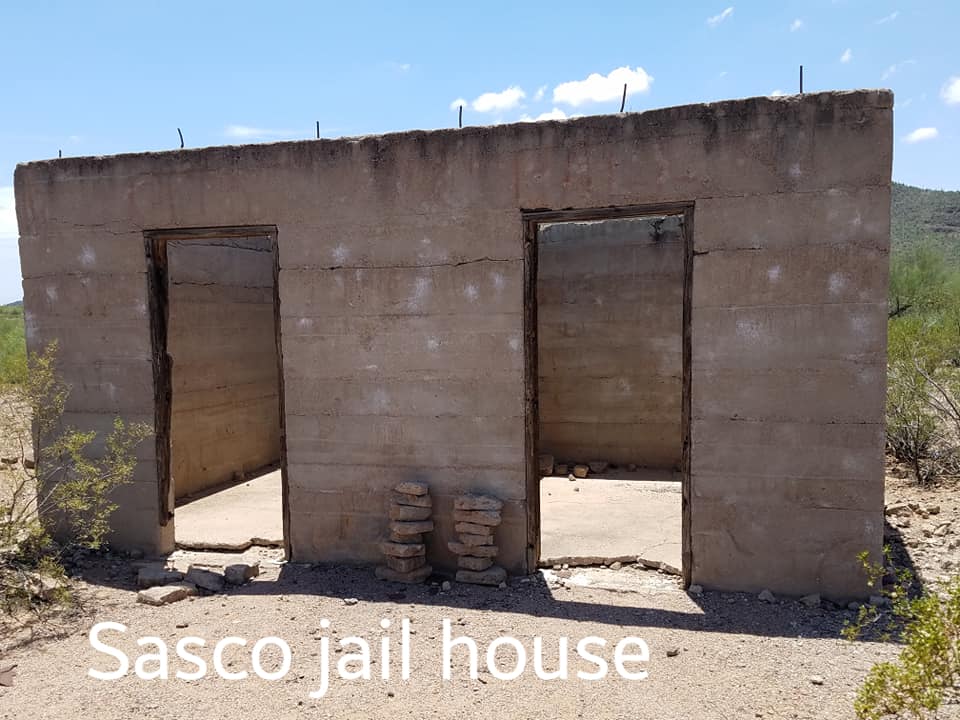 Okay, this is what we were expecting. 5:00 game is currently in a 30-minute lightning delay.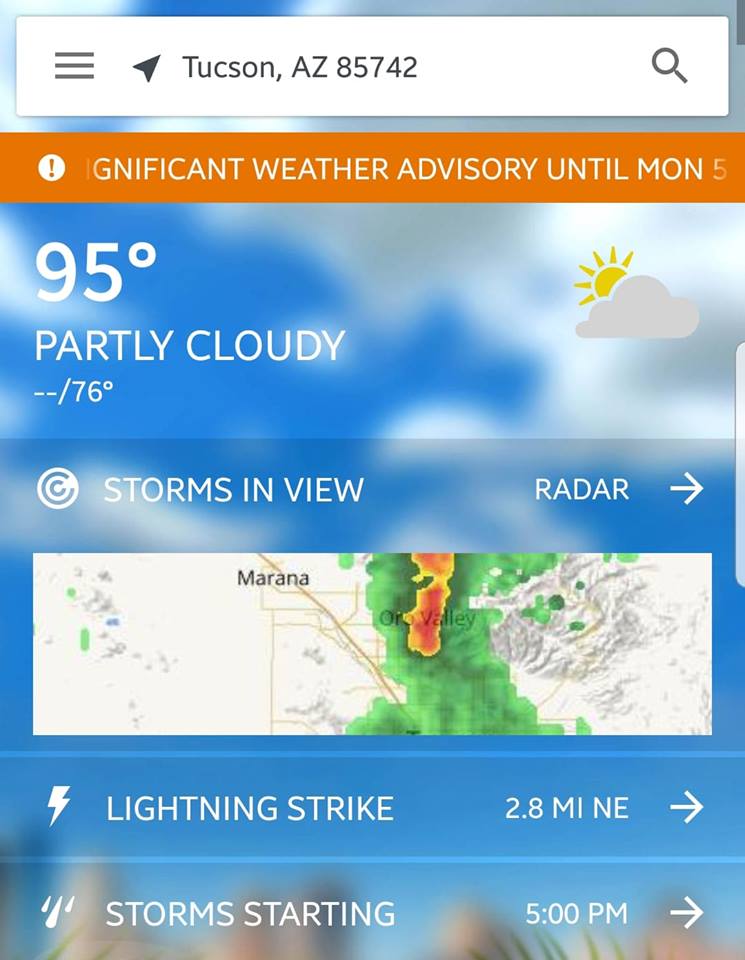 So, we knew the rain couldn't hold off. It hit early morning, and was steady til around noon. And yet, the fields were in great shape for our crew's 5:00 and 7:30 games. Working with me today were Scott Moseley, Tom Sullivan, and "Mr. Bill" Fronzaglio.
In the 5:00 loser's bracket game, Host/Tucson came up big against Nevada. I had U2, which is always the most challenging 4-man position for me for some reason.
In my evening plate, Washington came up big against NorCal in the winner's bracket. There must be something in the water in the northwest; Washington's girls seem to be taller, bigger, and faster than their competition, and will be hard to beat.
It was great to see one of my fellow umpires from last year's Little League Senior Baseball Regional, Jon Gross, who lives in Tucson and came to spectate and reacquaint.
Tomorrow: just one game at 7:30. I am going to have to take in some of the sights in and around town during the day. Anyone have any suggestions?
Running four games on each of two fields, this was a critical day to get through -- and the weather cooperated spectacularly. Overcast most of the day, with a good breeze, it could have been so much worse.
My plate game at 11:30 was a good contest between OR and NoCal. OR went up 6-1 after one inning, but NoCal chipped away and won, 12-7. Had a missed plate touch that, of course, went unnoticed. Sigh.
Tomorrow is two games at 5:00 (U2) and 7:30 (plate). The 7:30 is a winner's bracket game between WA and NorCal.
Running four-man crews, we each have four games today (9:00, 11:30, 5:00, and 7:30) -- one at each base and one plate. My crew today: Michael Lechnar (Mukilteo, WA), Thomas Sullivan (Los Angeles), and Parker Shibuya (Tucson).
My plate today is at 11:30 (NorCal v. OR). Predicted high of 97, 15% chance rain, and running around 55-60% humidity. Fluid and calorie consumption will be critical today.
Assuming I come out at the other end in one piece, I'll pass along some notes on today's games.
Checked in to the Omni Resort in Tucson. Beautiful room all to myself, with a great view of the golf course from the balcony. Ready for an afternoon of meet-and-greets with the coaches and other umpires, followed by a BBQ buffet.
The Road thru Tucson... Worked two games in the the 8-10 AZ State Softball tournament in Avondale this evening, with Russell Smith (the evaluator for the Regional starting Saturday) and David Chavez from Chandler. Unfortunately, neither game was close; 7-0 on the first game (on bases) and 22-1 on the second (plate), but it was a good chance to focus on mechanics. Tomorrow: check-in at the hotel, the coaches' meeting, the umpire meeting, and a BBQ dinner with all the teams and umpires. I PROMISE to have some photos to document the festivities.
The Road thru Tucson, first stop: Lancaster, CA.
The snarly plate dude on the left (yours truly) and his base crew -- Rich Odermatt, Tom Sullivan, and Scott Moseley -- after our 10-12 LL Softball State Tournament game last night. Tom, Scott and I will be continuing to Tucson for the Juniors (12-14) Softball Regional tournament starting the 14th. This, after 11 USA Softball games in the B-States tournament the prior three days. A great bunch of guys and an awesome crew. Next up: an evening of softball in Phoenix on the 12th with Russ Smith, the evaluator for our Regional.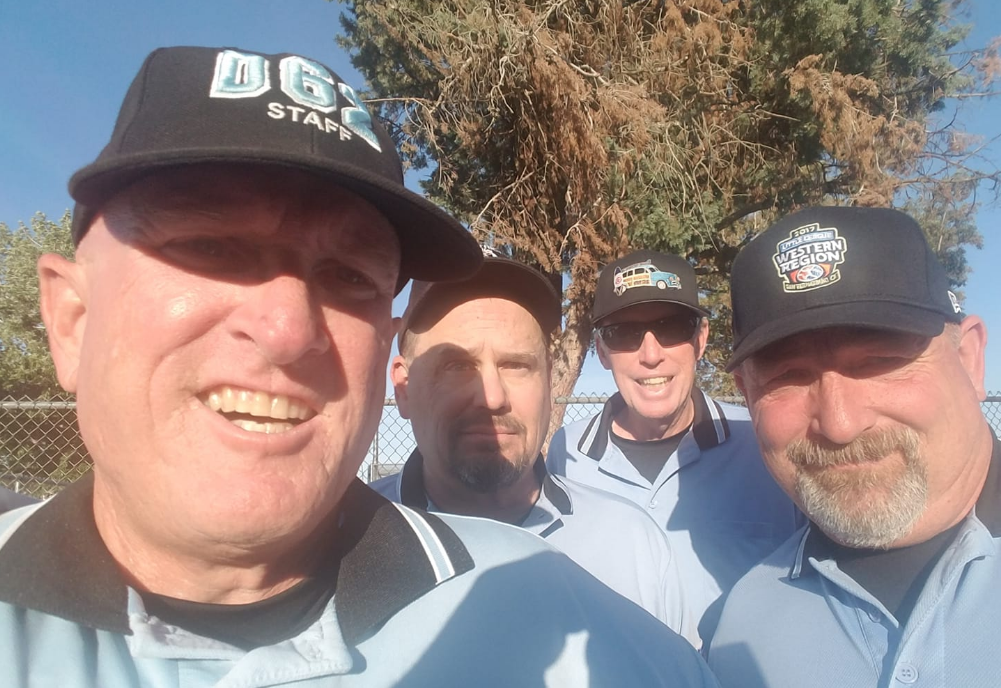 The wait was well worth it. Many thanks to Mark Groh and All Star Pins for the great job on my pins for the Western Region LL Junior Softball Regional next month in Tucson.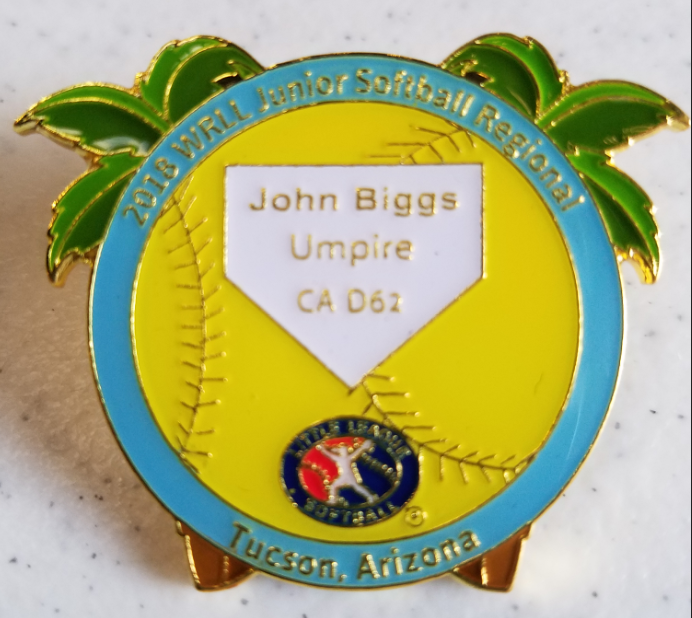 Words fail me, but I'll give it a shot.
It is with great humility that I share my selection by Western Region Little League to work the 2018 Junior League Softball Western Region Tournament this coming July. In Arizona (gulp!).
Our district's representative to the 2017 tournament (John Roe) spoke very highly of this regional, and of the hospitality of the host District 5. I feel extremely fortunate to have been selected to work a WRLL regional two years in a row, and look forward to again representing my district, region, and Little League to the best of my abilities.
Many thanks to CA D62 District Administrator Mark Groh and UIC Bill Graham for submitting my name, and to WR Director April Meehleder and UIC Mark Bernstein for my selection.