E-Log - John Biggs 2017 WRLL Senior Baseball Regional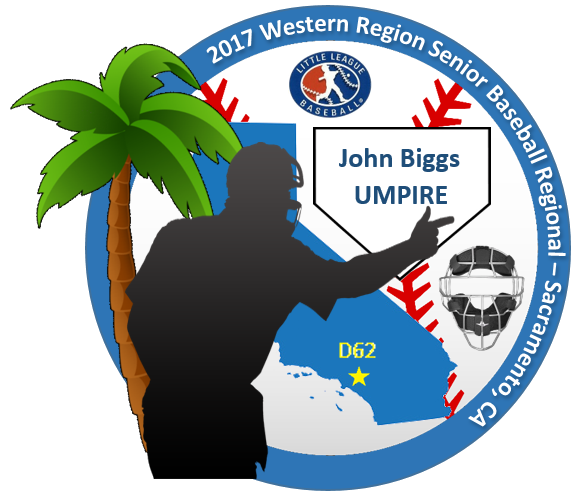 After the most amazing two-week stretch of my baseball umpiring life, I thought I'd post some final thoughts on my experiences....
-- Working the SoCal State Senior BB tournament was a great prep for the Regional. Two games with D62 crews, and another six with seasoned Regional veterans Bill Balog, Joey Tignor, and Tyrone Powell, was invaluable. Thanks to host District 46's Timothy Weil for making those assignments happen, and the D46 tournament staff for their hard work.
-- Never fully trust your car's nav system during morning rush hour in LA. I got put onto side streets when I left for Sacramento that I hope never to see again.
-- The night before the Regional tournament began with a meet-and-greet with the other umpires, and the tournamentt UIC PJ Schneider, during which I found a way to strip a few layers of skin off the back of my right hand. The night ended with a wonderful welcome dinner, hosted by Michael and Holly Abplanalp, who could not have done a better job at entertaining a group of hungry and thirsty umpires (and many thanks for the lovely engraved drinking glasses they provided to each of the guys).
-- The first three days with the same 4-man crew (Bill Balog, Kenny Payseno, and Patrick Weeks Champion), allowed us to fine-tune our mechanics leading into the closing games. Evaluator Kevin Sullivan did a great job of observation, and helping each of us step up our game, in addition to the six-man games to close out the week; he had an amazing eye for detail.
-- Not enough can be said about Barry Silverman's willingness to travel north and take in all the games for the first 4 days of the tournament. Thank you so much, Barry, for your familiar face, your insight, and your support.
-- Thanks to Joey Tignor for hopping aboard the social media train during the tournament. Once he joined Facebook, he posted a ton of photos, many of which I used in my posts.
-- The tournament staff was a well-oiled machine. Led by host District 5 DA Norm Fuller, his staff of son Rob and his grounds crew, Annie and her snack bar (and tasty Salmon dinner), and all in the stadium booth, kept things seamless. And to those on the staff I've left out, thank you so much for your hard work.
-- Tournament UIC PJ Schneider, in his second year of hosting the Senior BB Regional, knew exactly what his umpires liked and needed to do their jobs effectively. From the tournament trailer, to the endless supplies of snacks and iced beverages and towels, and much, much more, he and his wife, Lindsay, were just awesome.
-- Umpire Patrick Champion was an inspiration to us all. Representing the host District 5, he showed how a hearing disability can, by no means limit your effectiveness as an umpire. And additional thanks for some of the more "colorful" sign language lessons.
-- Umpire Gary "The Voice" Williams, who works as a public address announcer for the Oakland Raiders, had the only two ejections of the tournament -- one coach and one player, both from the NorCal/Oakland team -- with each one justified. There was some debate as to whether we could have gotten others, but only two for a tournament of this magnitude was surprising.
-- The Hawaii team should represent themselves quite well in the Senior BB World Series, starting this weekend in Easley, SC (good luck, Tyrone Powell!). Pitching depth is what carries the good teams, so it wouldn't surprise me to see them take the title.
This been the ride of a lifetime. Beginning with the mid-December letter from Western Region, to the bucket list cross-off of visiting Biggs, CA on my way back home, it has been an experience both humbling and exhilarating. I have made friends for life, among whom are umpires all of whom I would work with again in a heartbeat. And thank you, dear reader, for allowing me to share this experience with you. I know I have come out of it a better umpire, richer for the experience.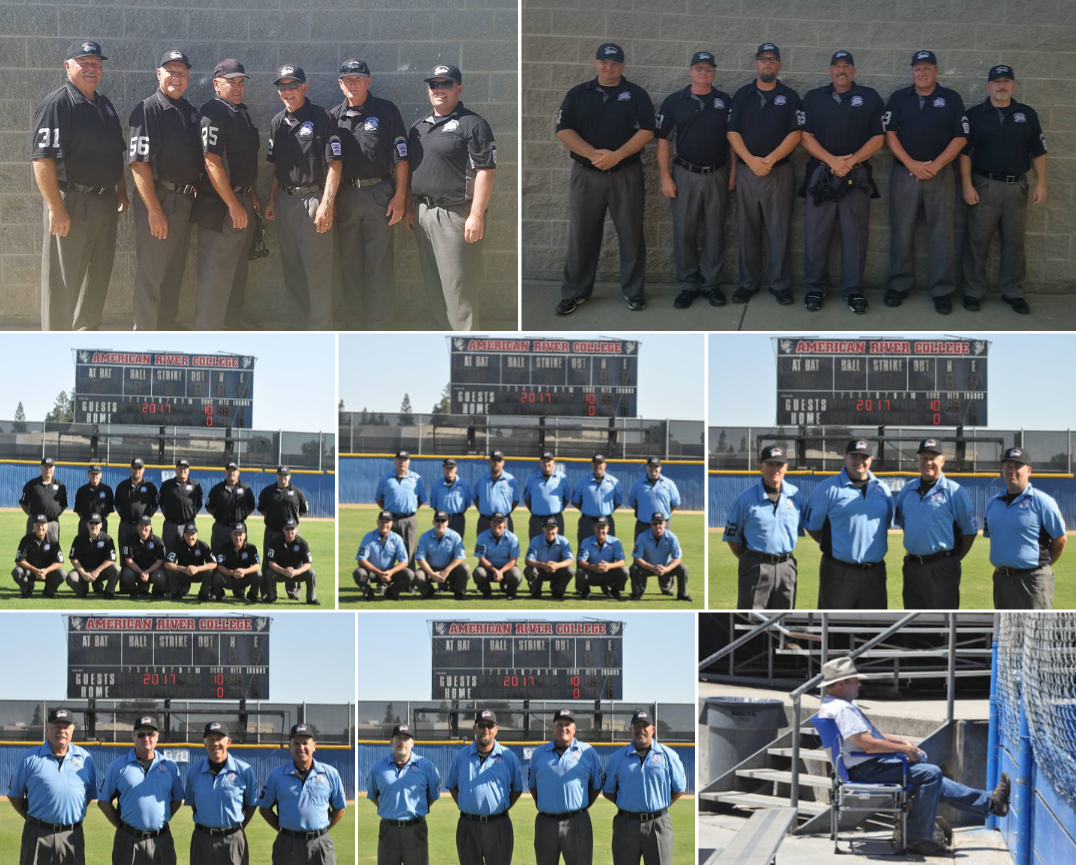 Working U3 in the Championship game yesterday. And yes, that is a black shirt in 97-degree weather.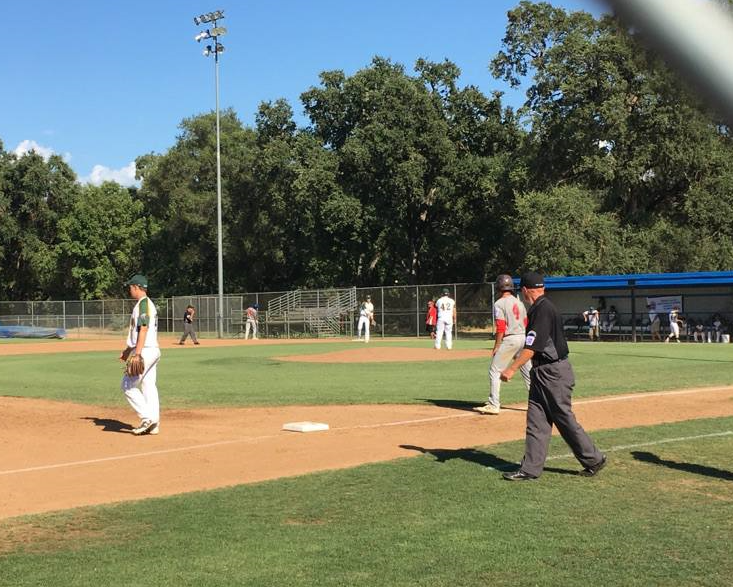 Made a little detour this morning up north before heading back to OC, to the lovely little speck on the map called...
Hawaii is going to the Senior Baseball World Series in Easley, SC. They were a 10-0 winner over NorCal in six. I kinda knew at the plate meeting, when the Hawaii coach said that he had no ineligible pitchers, that it might be a tough one for Oakland.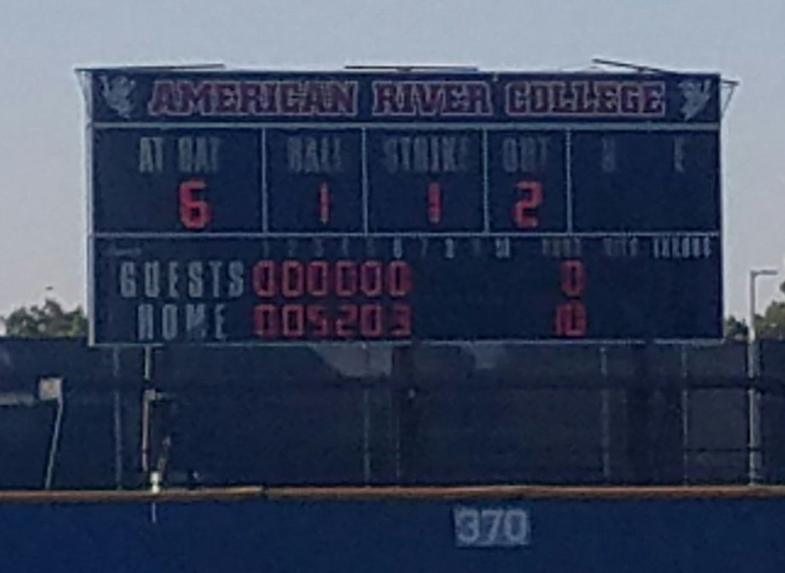 A well-pitched game tonight by NorCal (Oakland) to beat Arizona (Nogales), 5-1. NorCal vs. Hawaii (Maui) in the 4:00 final tomorrow, with me at 3B.
Final group photo tomorrow at 9:00, and formal, documented individual evaluations from tournament evaluator Kevin Sullivan starting at noon. The time has just flown by.
Enjoying the view walking/driving 9 holes with some of the guys. Much less stress when I don't have to push along a white ball.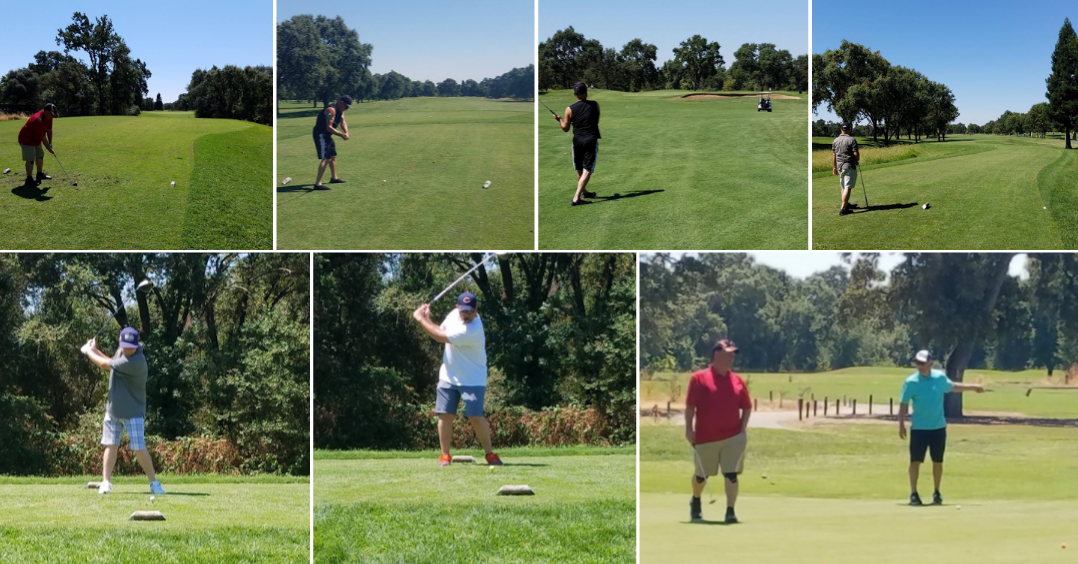 My crew for this intense winner's bracket game, won by Hawaii 8-7 after a caught-stealing last out call by yours truly against Oakland. From left: Joey "Tiggy" Tignor, Gary Williams (a solid plate), myself, Jon Gross, Patrick Champion, and D68's Rick Alleman.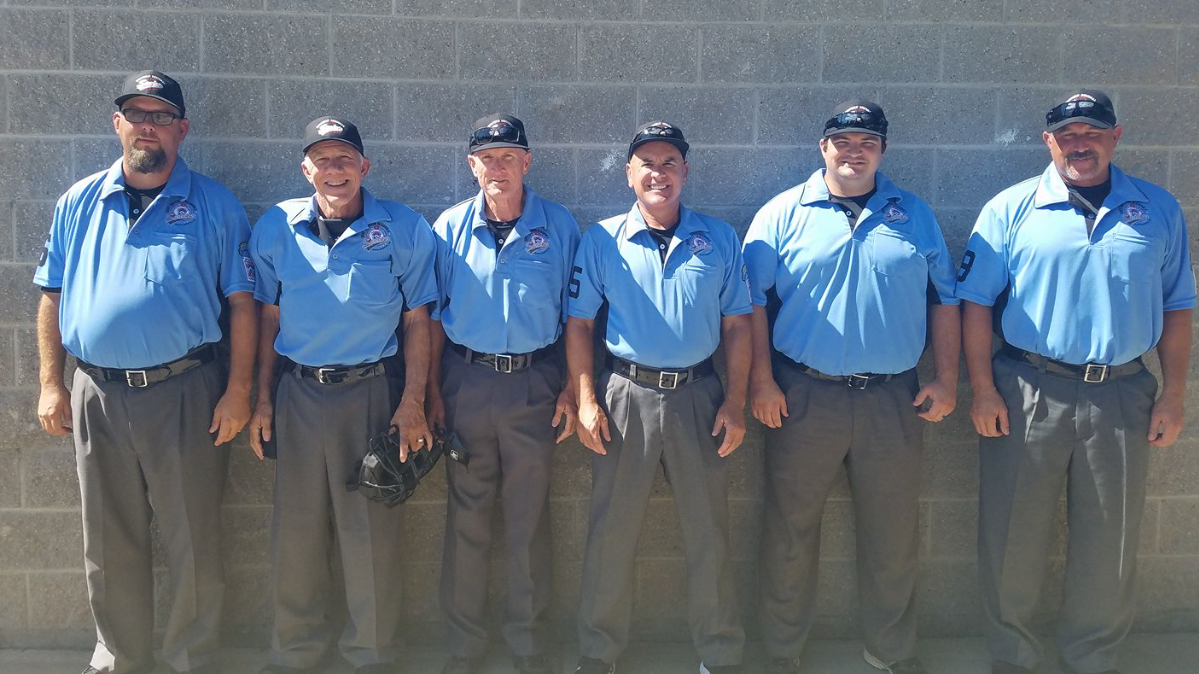 Enjoying an awesome breakfast with the guys and the tournament staff at a local institution.
The crew assignments are OUT for the remainder of the tournament. I have U2 for the winner's bracket game today at 4:00 between Hawaii and NorCal, and U3 in the championship game on Wednesday, also at 4:00.
Got a lot of great input after yesterday's plate from tournament evaluator Kevin Sullivan, and anxious to put it into action when I get back to OC.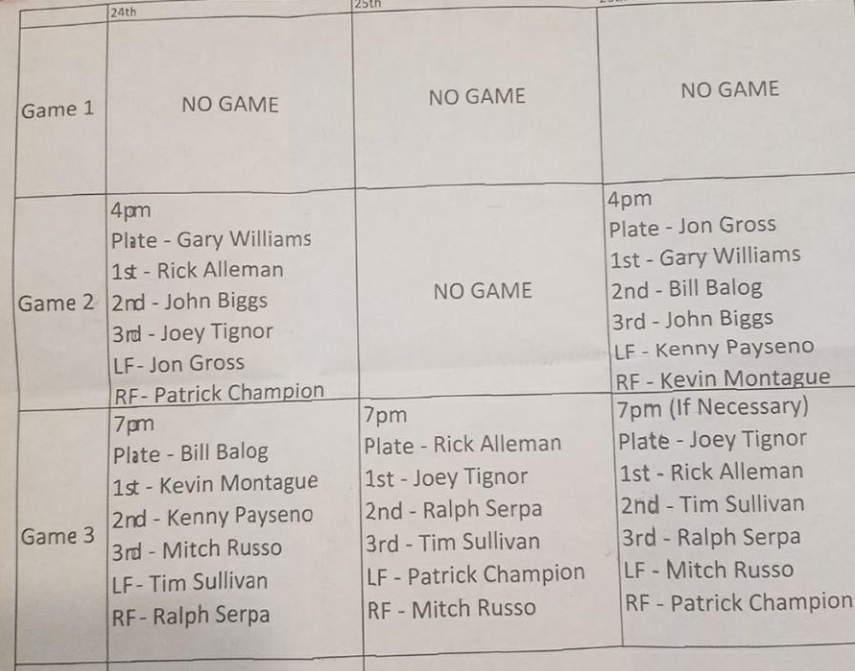 Crew shots prior to and during my 4:00 plate today at Senior BB Regionals, a 16-3 mercy win by Arizona over Montana, who were eliminated.
Crew assignments from this point on are TBD.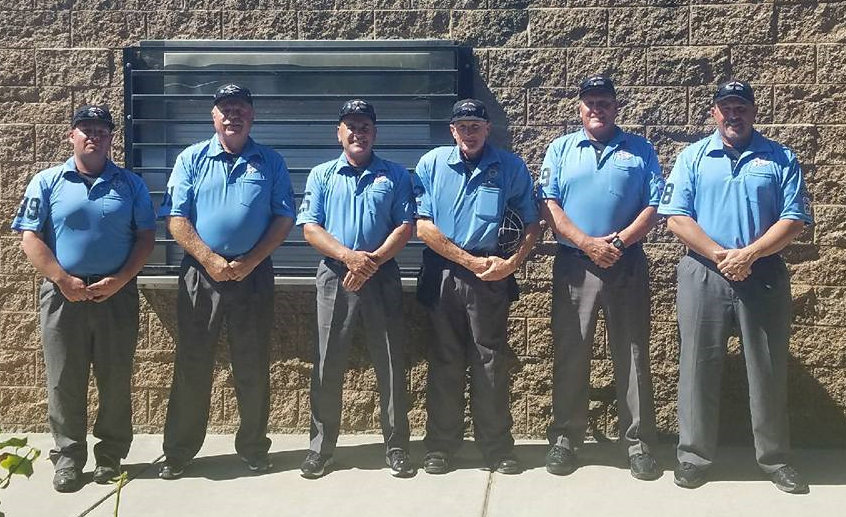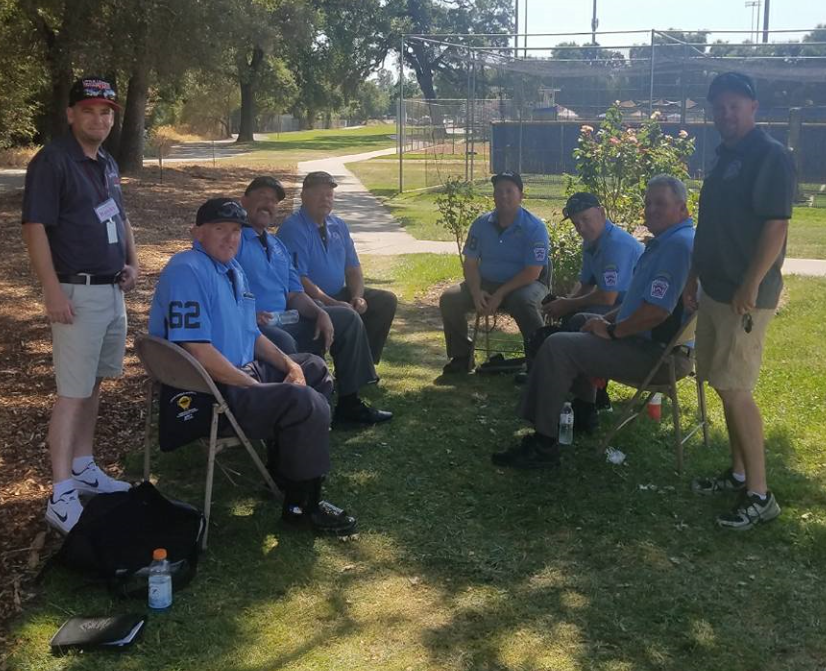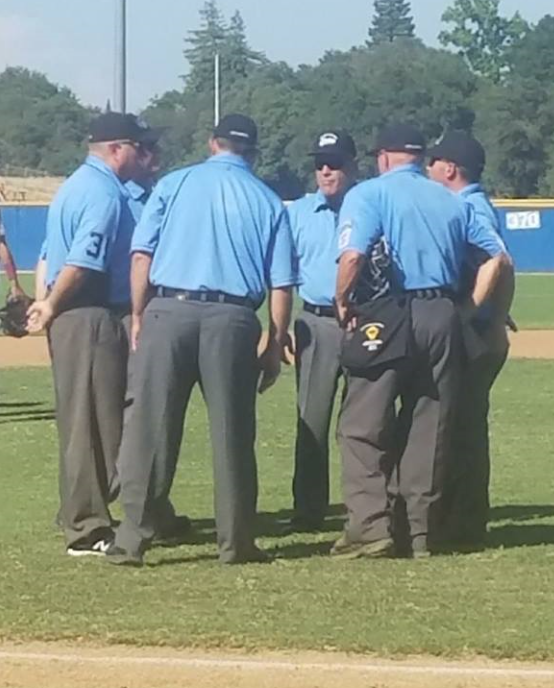 Crew pre-game and walk-up to our 97-degree 5:00 game today. Actually, it was cooler than expected. Hawaii beat AZ in a good, close game, meaning my 4:00 plate tomorrow is AZ vs. Montana. 100 degrees predicted, but the tournament staff is doing a great job of keeping the crews hydrated and providing towels in ice water to wipe down between innings.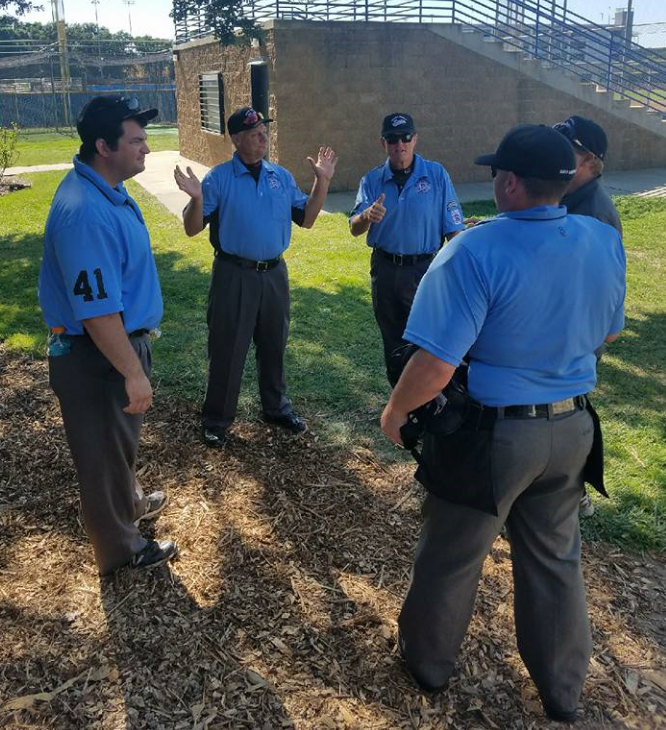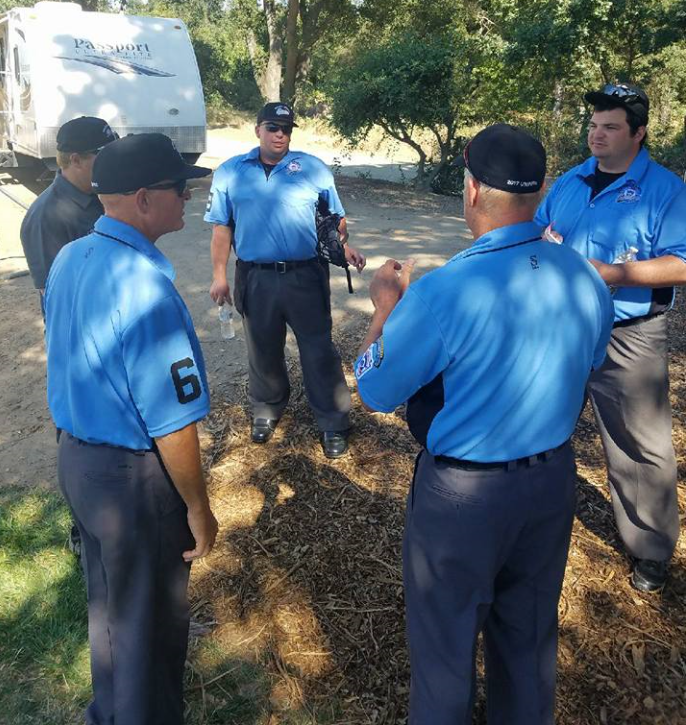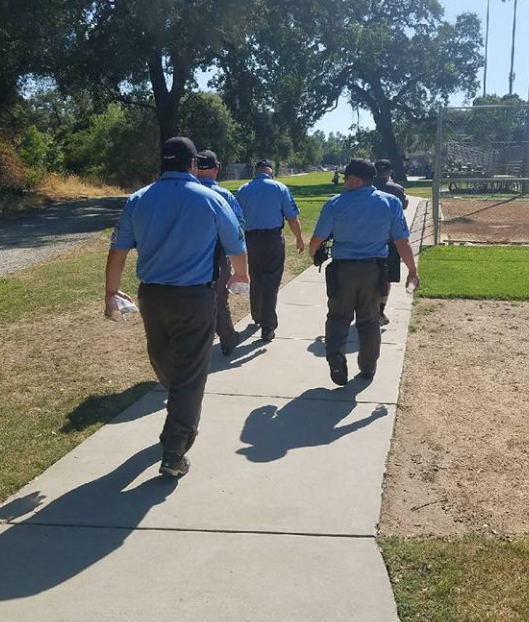 Watching the 7:00 SoCal vs. NV game with umpires Kate Hart, Barry Silverman, Bill Balog, Kenny Payseno, and Joey Tignor, and cheering for the crew.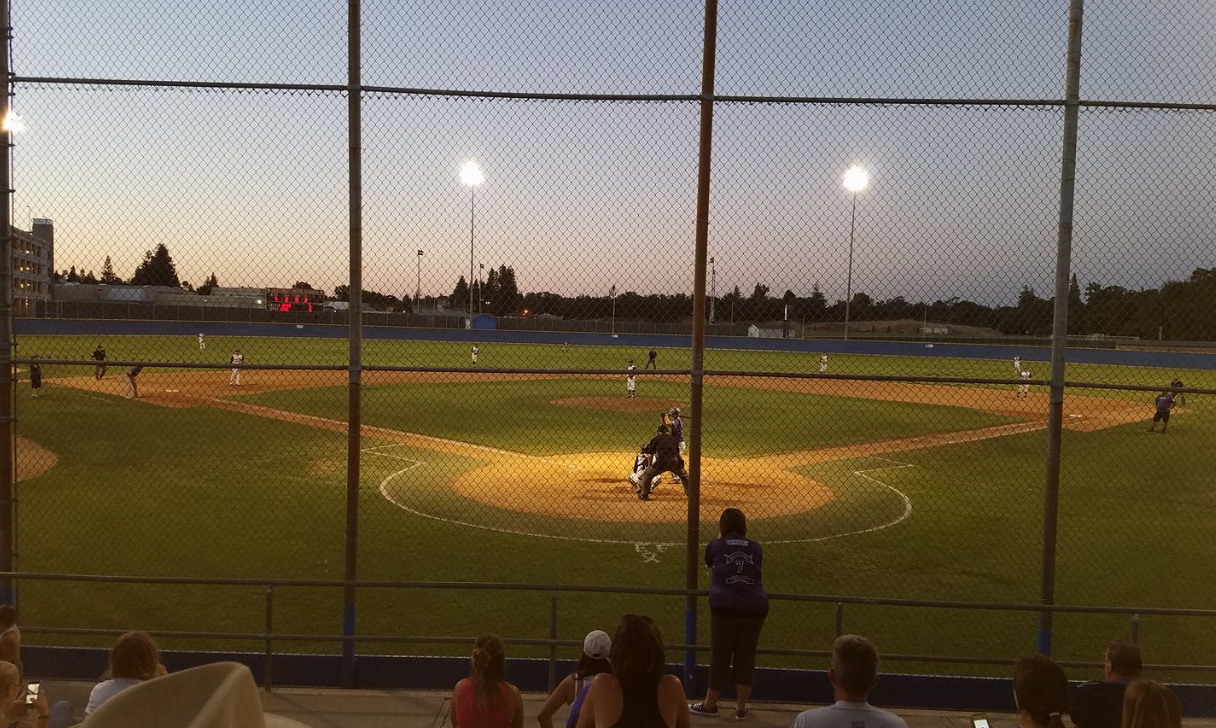 Our plate partner, Patrick Champion, and me and my base partners, Kenny Payseno and Bill Balog, before our 1:00 today between Montana and Washington.
Mid/upper 90's today, and projected to be above 100 Saturday and Sunday. And, other than with Anna, I can't think of anywhere else I'd rather be.
U1 tomorrow at 5:00, and plate on Sunday at 1:00.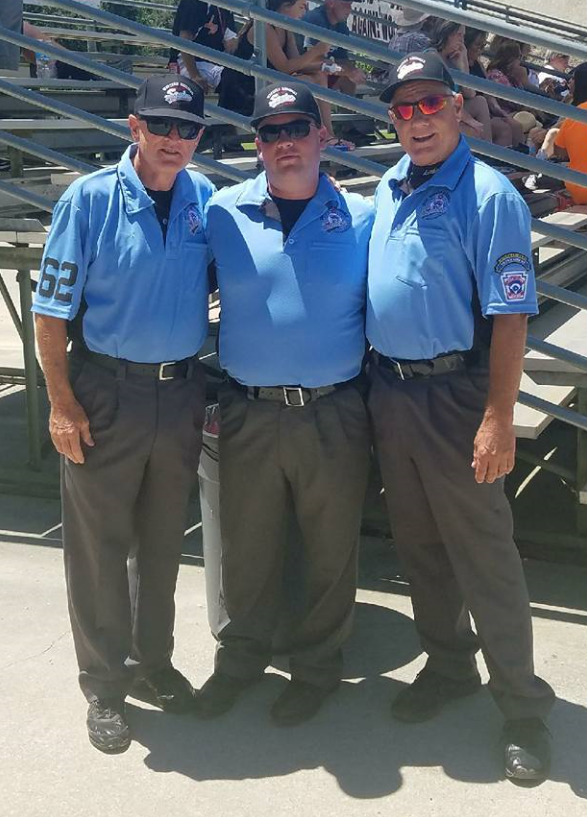 Pre-tournament photo and orientation. Also got our game schedule for the first four days. My first plate is a 6-man on Sunday, meaning that I have NO rotation responsibilities. I could almost grow roots behind home plate.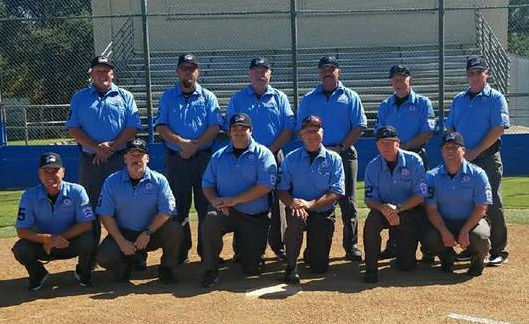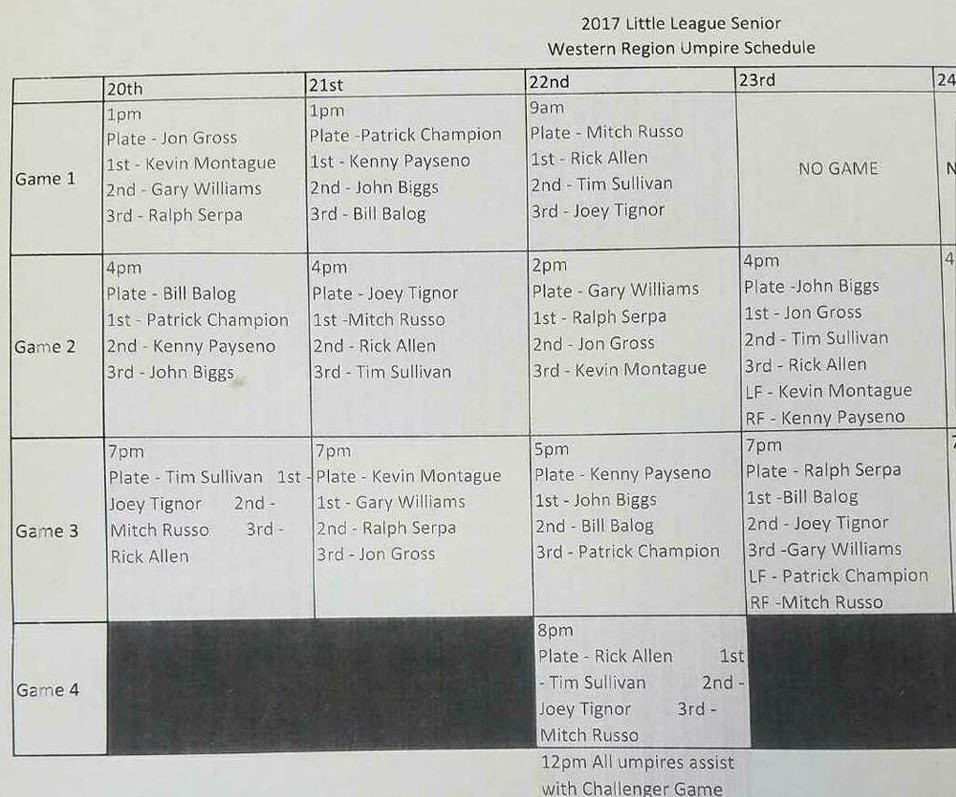 Let the games begin! American River College's stadium is slightly smaller than Boysen Park, at 348/370/390, and with a much smaller distance from plate to backstop. The first of 15 games begins Thursday at 1:00, leading into the Championship game on the 26th at 4:00.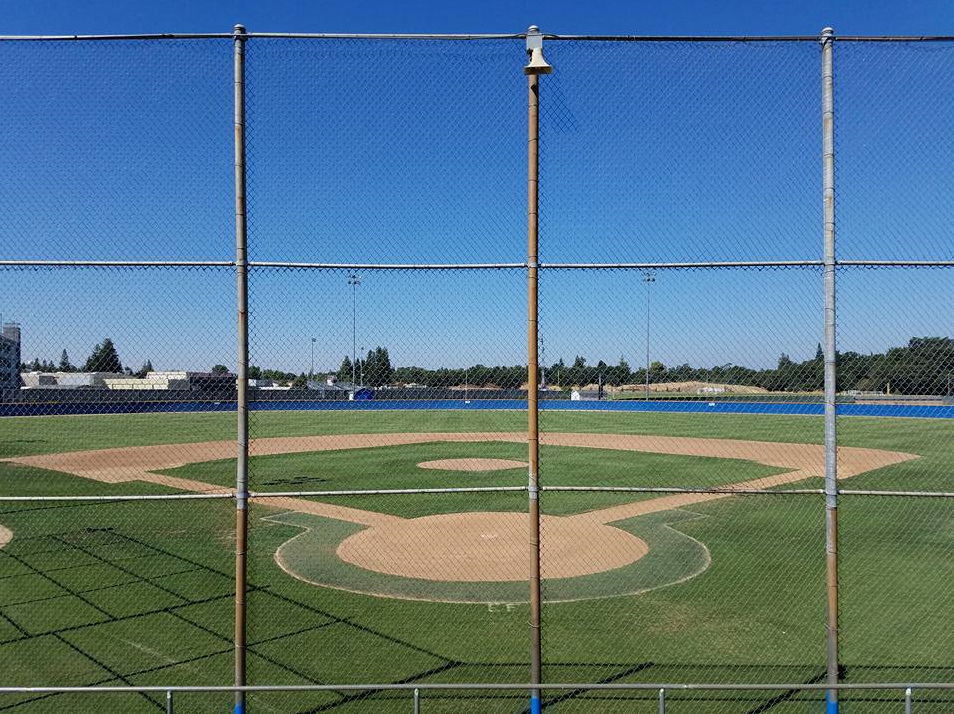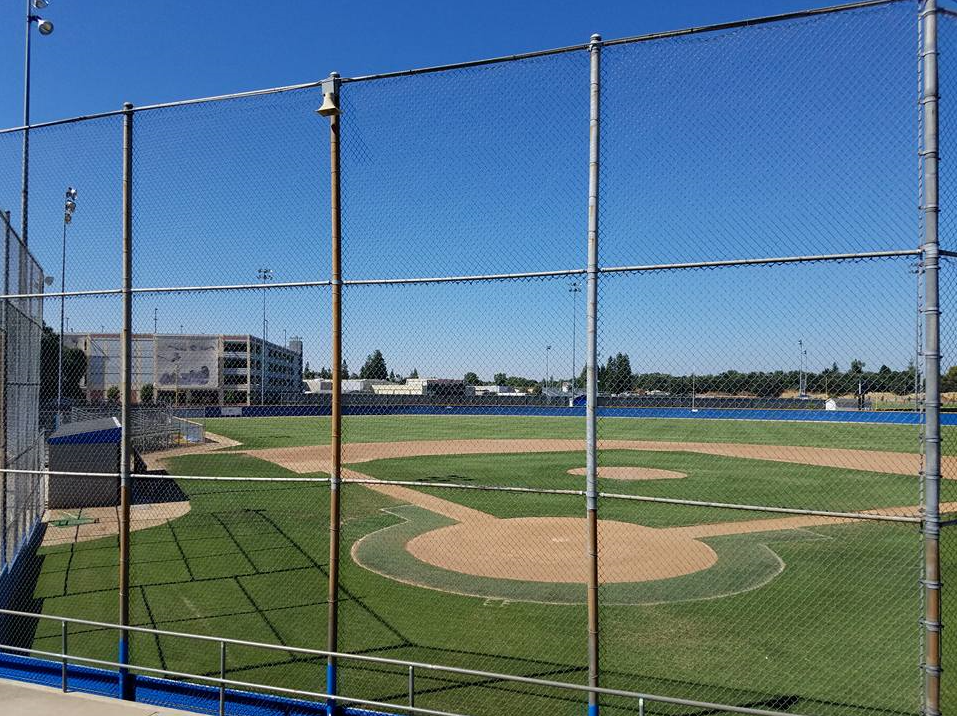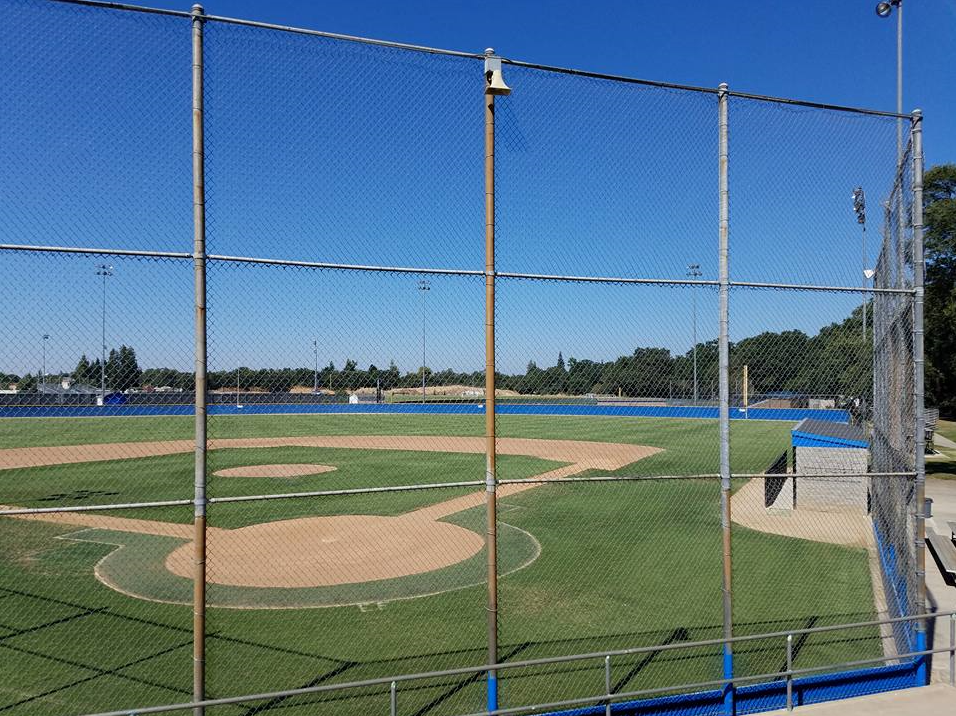 Have U3 for the championship game of the SoCal Seniors BB States tonight at 5:30. Tyrone Powell, heading to Easley, SC for the Seniors World Series, has plate, with Joey Tignor at U2 and Bill Balog at U1.
Chris Rutz, heading to Williamsport next month for the LLWS, will be evaluating each of us tonight. This will be a good time to not suck.
With my SoCal Seniors BB State Championships crew, before our Sunday 7pm at Boysen. A new look for me: black-over-red, to match the hats given to us by D46 UIC Timothy Weil. No wonder I like the look -- those were my wedding colors.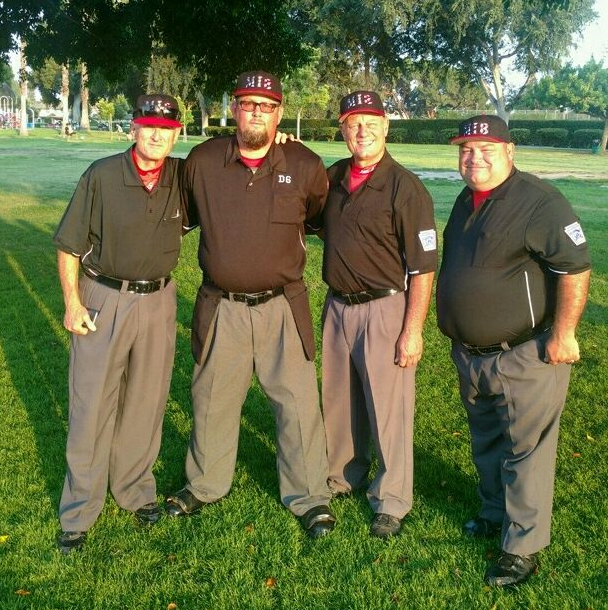 Enjoying watching a D68 crew working the 1:00 SoCal Senior State Championships at Boysen Park, with my crew for seven games this weekend. From left: Bill Balog, Tyrone Powell, Joey Tignor, and yours truly.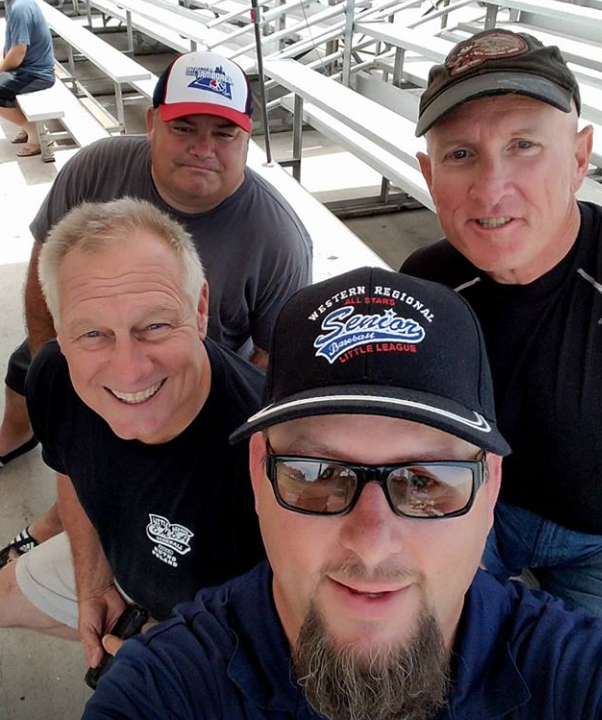 At iconic Boysen Park in Anaheim, for the first of nine games over five days of the SoCal State Championships for Western Region Senior Baseball. The winner goes on to the Regional tournament next week in Sacramento.
Two games this evening with all-D62 crews, then seven over Saturday thru Monday, with Bill Balog and Joey Tignor (both continuing to the Regional with me), and Tyrone Powell (heading to the Senior Baseball World Series).
Looking forward to some great baseball, and working with highly accomplished crews.
As an FYI to the group, I have attached a copy of the 4-man mechanics we have been requested to use at my Senior regional next month.
Those familiar with 4-man on the large field will notice some minor differences from what we teach within D62. For the most part, mechanics are the same, but the document shows that LL has base umpires running a reverse rotation with their base umpires much more often.
Many thanks to D62 Administrator Mark Groh, and to All Sports Pins, for the great job on my regional pins.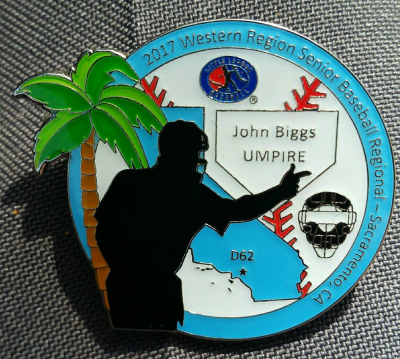 One of the best early Christmas presents I have ever received... As an umpire who has worked for, and beleived passionately in, Little League baseball since 1996, I have received the honor I, and any of my brethren, could ever hope to receive -- an invitation by the Western Region staff to work the Senior Baseball Regional this July in Sacramento.
My deep thanks go out to Western Region Director Dave Bonham and UIC Mark Bernstein for the recognition, to District 62 District Administrator Mark Groh and UIC Bill Graham for the recommendation, and to all the selfless umpires I have worked with over the years who have helped me to improve in my chosen passion.